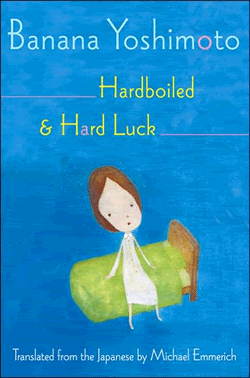 Title: Hardboiled & Hard Luck
Author: Banana Yoshimoto
Thoughts:
This isn't really a novel but two novellas in one book, and it's super slim, reminds me of the "pocketbooks" my friends and I devoured, when we were in high school. And by devoured, I meant that we can read five books in one day while in school from 7am to 3pm, the addiction was so contagious even some of the manly-man guys in our class read it (trust me, the content isn't really for guys) but before I even get way off-tangent here let's go back to the book.
Hardboiled is a ghost story. The narrator goes on a hiking trip on the day that turns up to be the anniversary of her lover/roommate's death. Unlike the second story, the narrator is stoic and didn't seem to care that much about the death of her ex-lover. She passes by a temple and a soba shop where she feels an eerie foreboding. She heads up to the nearest inn to spend the night. She has a strange conversation with a woman who claims to be a guest in the inn, and has a dream about Chizuru, her ex-lover.  The supernatural elements bothered me at first because ghost stories haven't really been part of my reading diet. The most ghostly I've ever been had been Wuthering Heights. But it wrapped up nicely and wasn't too over the top as I expected. Eventhough she realizes that it was Chizuru's death anniversary a little later from the beginning, I felt that it was a subconscious prompting on her part to come to terms with Chizuru's death, no matter how weird it turned out to be.
Hard Luck is also about the tragedy of losing a loved one. The narrator's sister Kuni had her whole life ahead of her, but instead of celebrating a wedding, the family has to deal with the tragedy that Kuni has no chance of ever waking up from being comatosed. Kuni's fiancee has fled and abandoned her which the family views as cowardice but his elder brother Sakai regularly visits the hospital. The narrator finds herself attracted to Sakai but because of the circumstances that surround their relationship, she can't readily allow their friendship to progress any further. It's as if they are all waiting for Kuni's death, and are wondering how to begin their lives. I like the part about the song that plays when you die, and the mix that Kuni made for herself before her death.
I know there must be more to these stories than I can ever uncover but I'm not a Lit major (haha, excuses) but both stories deal with the process of losing someone who was once a significant part of your life. Depsite dealing about death, the stories were not heavy. How sleep lightly veiled dying, and how the narrators dealt with their grief. It seemed natural. The stories weren't as powerful visually as Murakami's, and I don't even know why I'm comparing them, but I like the simplicity, vagueness and the language that Yoshimoto used. A plus is that even if it's about death I didn't end up depressed.
Quotes:
Things that don't matter at all to one person can hurt another so deeply it seems as bad as dying.
Ultimately though it's living people that frighten me the most. It's always seemed to me that nothing could be scarier than a person, because as dreadful as places can be, they're just places; and no matter how awful ghosts might seem, they're just dead people. I always thought that the most terrifying things anyone could ever think up were the living things people came up with.
Time expands and contracts. When it expands, it's like pitch: it folds people in its arms and holds them forever in its embrace.
People tend to think they break up because they get tired of the person they've been with – that it's someone's decision, either yours or theirs. But this isn't really true. Periods in our lives end the way seasons change. That's all there is to it
"When you're in love", she once said,"it really hurst, it aches, and you can't supress it, you wan to see it through to the end even if it means that someone has to die, and so you end up causing a whole lot of trouble for everyone."
"There was a passage in a book I read a long time ago," Sakai said, "about how if you hear extraordinarily beautiful music on  a street corner, it means that the same piece will be playing for you when you die"
It stuck me that hospitals can be very comforting environments for people who aren't doing well.
Tagged: banana yoshimoto, book review, hardboiled & hard luck, novel